Crematec AB
Total solutions provider for the crematorium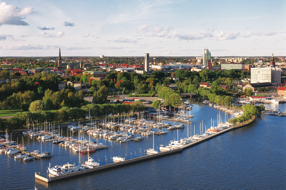 We provide total solutions with new cremator systems on turn-key basis, and we have a complete line of products for the crematorium. Crematec has taken over TABO, a company with history dating back to 1932. TABO has made close to 500 installations in 30 countries all over the world.
We have a wide assortment of product with cremator, ash-processor, flue gas cleaning, and coffin handling system. We also provide consultant services and advice for crematoriums, as well as service and maintenance.
Our VISION – People, Pride and Passion. People who work together. Pride in our strong ambitions. Passion to achieve good products.
Our MISSION. Is pride to professionally connect reliable technology and service.
Our GOAL. Is excellent global service for our user-friendly technology.
Our target is being the prime option on the market for cremation technology and service.

Crematec has office and manufacturing in city Skultuna. We offer reliable and well-proven technology. New or developed products are carefully tested before launching. We offer:
ergonomic and user-friendly solutions
operative support and service and maintenance 24/7
we work as total solutions provider with turn-key solutions
we work to improve environment
Our skills

We have deep skills in our own technical solutions and products. We use well-proven parts from reliable subcontractors. We know preventive maintenance and optimizing of equipment.
Service
Our target is being best on the market for flexible and custom-made service. We are always available. We strengthen our network continouosly and our goal is having a local representative where we have customers. We are fast on site when needed, and we can quickly reply through remote access.
We are here for you!